Advanced Conversational Hypnotherapy Training
Hypnotherapists Learn Advanced Conversational Hypnosis. Amaze Yourself & Your Clients and...
Confidently Charge More!
✅  Use this simple method to help your clients eliminate: Anxiety, Addictions, Stop Smoking, Weight loss, Grief, Anger,  Fear, Phobias, Sexual Dysfunction, Driving Anxiety, Abundance Blocks, Narcissistic Relationships, Pain and more!
✅  Save Time, Energy And Money With Advanced Conversational Hypnosis
✅  With ACH You'll Never Have To Buy Or Memorise Another Script Again!
✅  ENROL ONCE - NO MORE FEES EVER
✅  Fall Back In Love With Your Business. Dream, Plan And Achieve Your Goals
Reviews from Other Hypnotherapists!
When you use Advanced Conversational Hypnosis you can help your clients achieve amazing results like these. Don't take my word for it.  Here's a selection of testimonials from my Google Reviews from  practicing hypnotherapists who've studied more traditional methods but came to work with me because they knew how incredible ACH really is!
Block These Days On Your Calendar: NEW DATES WILL BE ANNOUNCED SOON!
ACH can help your clients achieve massive breakthroughs in 15 minutes.
Here's Vanessa Duplessie about how flabbergasted she was after just 15 minutes of working with me:
Seriously - if you ever are stuck and need to get your mind unfukt get with Paul Wilson. In 15 minutes yesterday (we had up to an hour) he completely removed a block I have been holding on to for almost 4 years.

It was holding me back in my business/sales. I was flabbergasted!

4 freaking years of doubt went "Poof" in 15 freaking minutes. Sometimes all you need is a mirror to help you see what's right in front of you. Thank you to Paul!

If you want to make this life your best life…don't be afraid to ask for help! Continuous improvement leaves you better than you were before.
Advanced Conversation Hypnosis is the secret that you can unlock to fast results, creating highly satisfied clients who'll refer you to their friends over and over again!
Paul Wilson Advanced Conversational Hypnosis Practitioner Client Testimonial
ONE SINGLE INVESTMENT
£997 One Time Payment Unlimited and Lifetime access to all future online 3 day Advanced Conversational Hypnosis (ACH) trainings, plus Online Mentoring and Support plus so much more!
This is NOT your typical training course. I'll be guiding you live, step by step throughout the training.
Picture never having to...
❌ Prepare for your sessions.
❌ Memorise scripts, language patterns or clunky techniques.
❌ Download, create, write, or read from a script again.
❌ Give clients homework or creating audios, they'll never listen to.
❌ Find the best technique for your clients.
❌ Put pressure on yourself wondering if the session worked.
Paul Wilson Advanced Conversational Hypnosis Practitioner Client Testimonial
💥LIVE step by step instructions, demos and demo breakdowns.
💥I won't reading from a text book - No enormous PowerPoint presentation either 🙂
💥Full student participation
💥Build unbreakable confidence in you as a hypnotherapist.
💥Real advanced therapeutic methods for faster breakthroughs
💥Private facebook group, access to the recordings
Paul Wilson Advanced Conversational Hypnosis Practitioner Case Study
My client was in his forties suffering from a combination of ED, premature ejaculation and low libido, other causes had been ruled out.  Our session was extremely successful in discovering the root cause using a trance state, however the client needed time to absorb the information and feel safe in the solution.
Around a week later he spent time with his girlfriend and discussed the issue at depth, during which he fell back into trance twice for a total of 45 minutes.  Since then he has been sexually active at a new level and even his girlfriend has discovered a new level of intensity in orgasm.
This is what he had to say:
"Hey Paul, here is a little bit of feedback on our session.  I really liked how you worked. Short and sweet, going for the throat immediately.

It made me think, and it made me make some conclusions.  Now, as far as results, I did not feel a lot of change for days.

However, I am sure you are a piece of the puzzle... My girlfriend and I were in deep conversation about therapy, about techniques, about us, about our relationship and sexuality.  This made me drift DEEEEP into trance.  I just sat there for 25+ minutes.  Reconfigured, I guess.  Came out of trance and we talked a little.  Then back into trance for another 20 or so.

And since then I have been sexually active on a whole different level.  Things have changed, not just for me, but also for my girlfriend.

There have been some boundaries in her, that have finally disappeared.  Also, something interesting, she realized that what she thought were orgasms, were NOT orgasms.  The were something milder.  Now she has orgasms and they blow her mind...."
Advanced Conversational Hypnotherapy Training
You'll get the exact systems and methods to radically transform your clients in the least amount of time. Meaning fewer sessions, less effort, less action and bigger breakthroughs – allowing you to confidently charge more.
My mentor Scott Jansen has combined the perfect hypnosis process to help students become the most sought after therapists in the industry! Why? Because they deserve it and so do you.
Lifetime access & support.
Once enrolled you are mentored by Paul Wilson for life. You will be a part of my growing community for life with real-life support from Paul Wilson. This is more than a program, it is a mentorship to support and keep you accountable for your success every step along the way. Practise with other students, get feedback and be supported with all your hypnosis and business questions
Private mentoring.
Once enrolled you have the ability to join our Facebook community and you will have access to the recording of the training for life. Immerse yourself in the training, the exercises and practical lessons and grow your hypnotherapy skills beyond what you thought possible. Grow your business, onboard new clients as you save time and achieve mind-blowing breakthroughs in less time than what was thought possible. If you want additional support, talk to Paul about available options.
Paul Wilson Advanced Conversational Hypnosis Practitioner Client Testimonials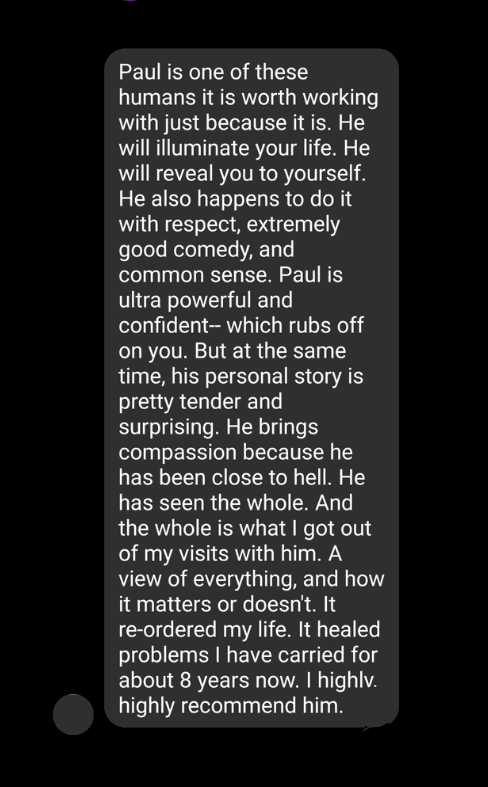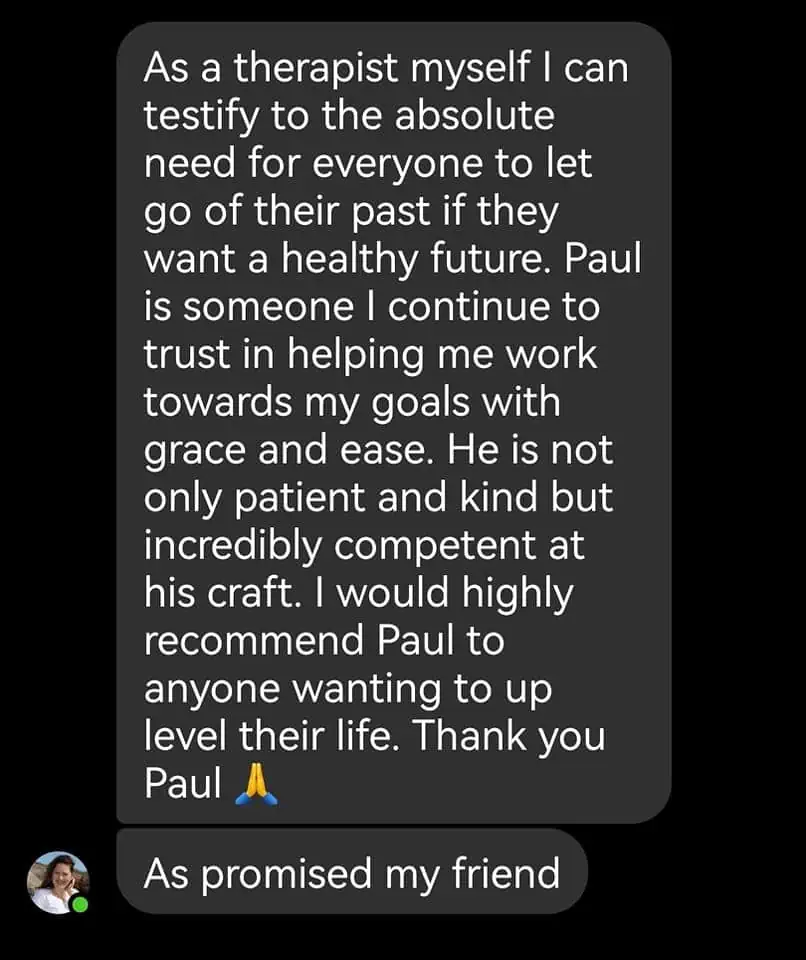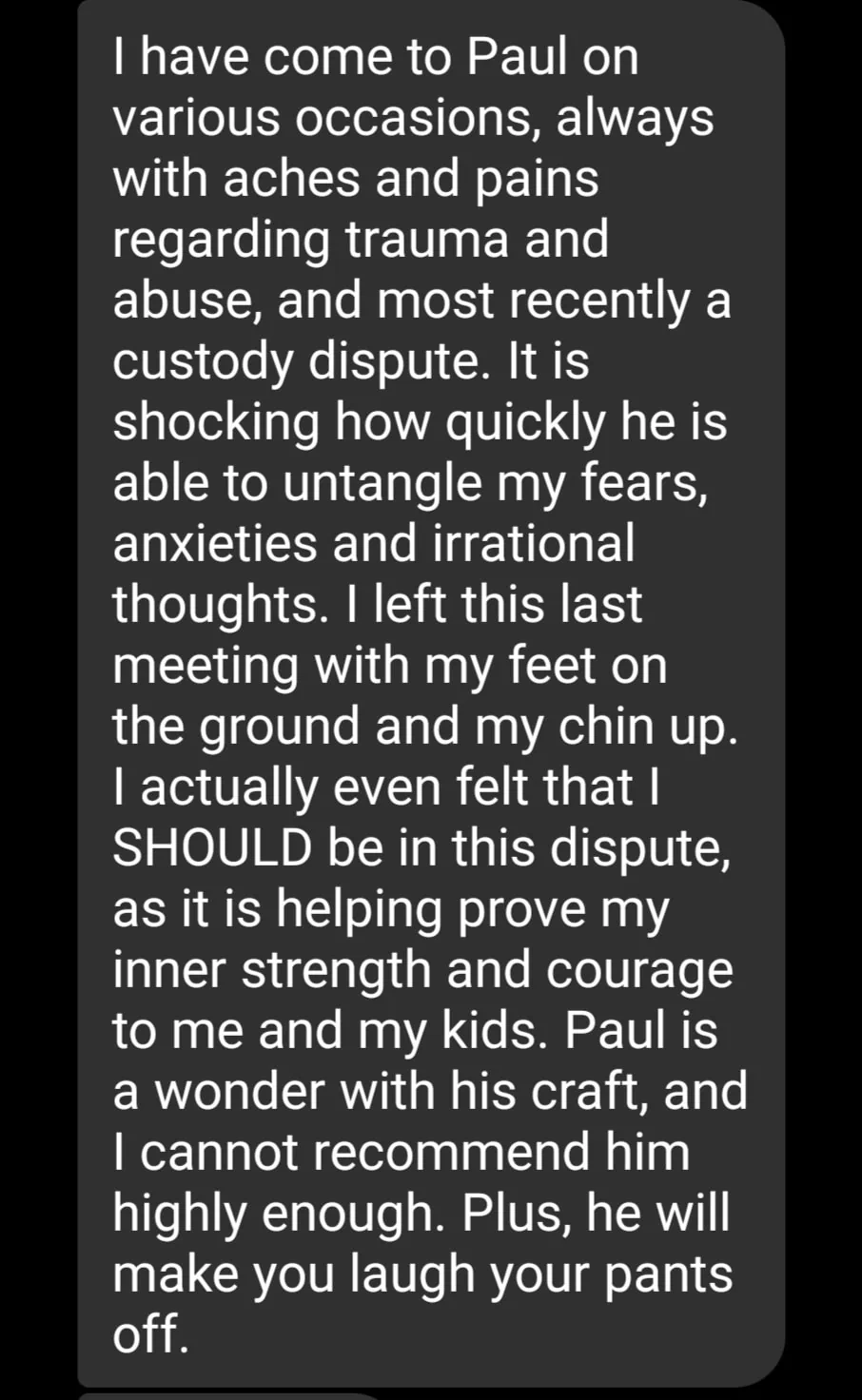 Important note
*This is not a certification course, nor can it be used for insurance or CEC points – This course is not recognized or registered with any hypnotherapy/coaching/NLP boards. This program is used only for educational purposes and to enhance your current therapeutic and coaching skill set.
All results, success and testimonies are from practicing hypnotherapists, coaches and NLP, your results may vary depending on your skill level, past certifications, knowledge, and dedication. You must take 100% responsibility to setting up your practice, gaining the correct insurance and education, following of rules and regulations for your services and marketing.
Paul Wilson and Ahappyhead.co.uk takes no responsibility for your results with clients. This program is for training purposes only, no certification will be presented at the end of the training.